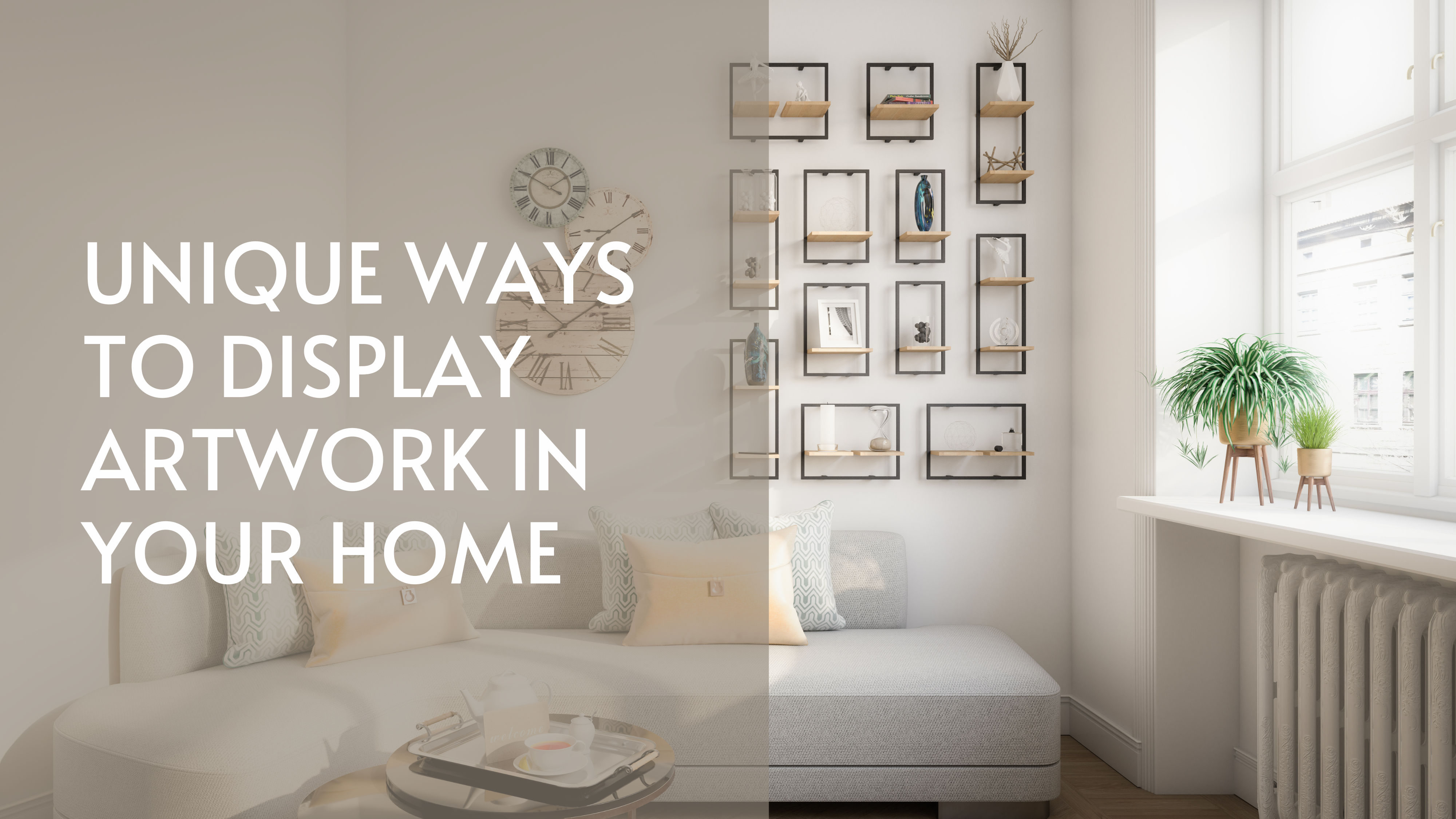 Unique Ways to Display Artwork in Your Home
Artwork is a beautiful way to express yourself and bring life to any room in your home. Displaying artwork in unique ways can make a significant impact on the overall look and feel of your space. In this blog, we'll share some innovative and creative ways to display your artwork that will make your home truly stand out.
1. Create a Gallery Wall:
A gallery wall is an excellent way to display multiple pieces of artwork in a cohesive and visually appealing manner. You can choose a theme, such as black and white photography, or mix and match different pieces to create an eclectic vibe. Arrange the artwork in a balanced way, with the largest piece in the center and smaller pieces surrounding it. Use matching frames or mix and match frames for a more eclectic look.
If you're looking for some fresh and fun inspiration for your gallery wall check out this awesome blog post! You'll find plenty of creative ideas to help you make your space pop.
2. Mix and Match Frames:
Gone are the days when all frames had to match. Mixing and matching frames of different colors, textures, and sizes can create a visually stunning display. Choose frames that complement the artwork and each other. You can even mix different types of frames, such as wood, metal, or acrylic.
3. Lean Art Against the Wall:
Leaning artwork against the wall is a casual and effortless way to display your favorite pieces. This works well with larger pieces of artwork, such as paintings or posters. Lean the artwork against a wall or piece of furniture, such as a console table. You can also layer multiple pieces for a more dimensional look.
4. Use Shelves:
Shelves are an excellent way to display smaller pieces of artwork, such as sculptures or figurines. You can use floating shelves or bookshelves to create a unique display. Mix and match different types of art and objects, such as vases or plants, to create a visually stunning arrangement.
5. Hang Art in Unexpected Places:
Think beyond the living room or bedroom when it comes to hanging art. Consider hanging artwork in unexpected places, such as the bathroom or kitchen. This can add a touch of elegance and sophistication to even the most utilitarian spaces.
6. Create a Focal Point:
Choose one piece of artwork to be the focal point of a room. Hang it in a prominent place, such as above a fireplace or on the wall opposite the main entrance. This will draw the eye and create a sense of drama and intrigue.
Adding personality and style to your home can be achieved through the unique display of artwork. There are various ways to achieve this, such as creating a gallery wall, mixing and matching frames, or hanging art in unexpected places. The possibilities are endless, and with a little creativity and imagination, you can turn your home into a work of art.
The display of artwork is not only aesthetically pleasing, but it also reflects your personality and interests. By incorporating your favorite pieces of art into your home decor, you can create a personalized and inviting space. So, go ahead and experiment with different display methods to showcase your artwork in the most unique and creative way possible.